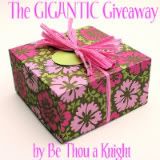 Do you want to be part of something big? Do you want to be part of something special? Do you want to share just a little of what you have with a couple who long to have children? Who wouldn't want to? Please join in and be a part of the
Gigantic Giveaway
! There are 4 packages...yes, you heard right...I said 4 packages! The list of prizes is endless and all for such a worthy cause!
Click on over to
Be Thou a Knight
and check it out. Read some of the story there and if that sparks your interest, there's a more in depth insight into their journey on
Growing Our Own Garden
. The deadline is midnight DST, March 30th so there's plenty of time to get your entries in...but don't wait too long...you know the old saying, "Out of sight, out of mind". You can't pass this one up!
And a special thank you to all those who been so supportive of Lianna and the DH through their journey. In case you didn't already know, it means the world to them!